Congratulations
MEDAL OF HONOR FLAG PRESENTATION 2 JUNE, 2009 - DAYTON
BG Richard W. Thomas and CSM Cy Akana are came to the LaPointe USAR Center to present the Medal of Honor Flag to the next of kin of Joseph Guy LaPointe, Jr., (to my son, Joe III and me).
This was a formal ceremony that took place on Tuesday, 2 June, 2009 at 11:00 - LaPointe USAR Center, 38 N. Woodman Drive, Dayton OH 45431.
BG Richard W. Thomas is the head of Ft. Campbell Hospitals including the LaPointe Health Clinic.
Take care,
Cindy (LaPointe) Dafler

Bill would rename road after veteran
As reported in the DAYTON DAILY NEWS, Sunday January 5, 2003.
MILESTONES: Section of highway in line to be named for Vietnam hero
The Ohio House and the Ohio Senate voted unanimously to rename a section of the Trotwood connector off Salem Avenue north of Dayton as the "Joseph Guy LaPointe Jr. Memorial Parkway". The bill, sponsored by Rep. Fred Strahorn, D Dayton was signed by Gov. Robert Taft on Monday January 6.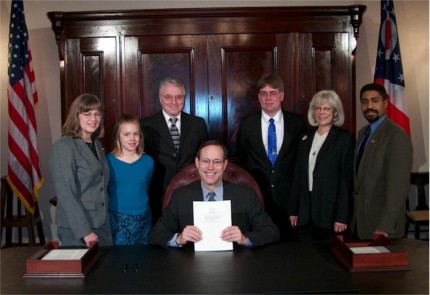 In the picture is: Cindy LaPointe, Katalyn LaPointe (Cindy's granddaughter), Randy K., Governor Taft (Sitting), Joe III, Kandy Nevin (Cindy's sister), and Representative Fred Strahorn.

as reported By Diane Richey
Columbus Bureau, DAYTON DAILY NEWS, November 2002
COLUMBUS - The Ohio House voted unanimously Thurs-day to rename Salem Avenue, through Trotwood and Clayton, after a local Medal of Honor winner killed in Vietnam.
The roadway will be known as the Joseph Guy LaPointe Jr. Memorial Parkway.
LaPointe was drafted after graduating from Northridge High School in 1966 and became a medical aidman in the Army. A pacifist, he did not carry a weapon but instead transported medical supplies, said Rep. Fred Strahorn, D-Dayton, who sponsored the bill, which still must go before the Senate.
LaPointe was hit by a burst of fire June 2, 1969, while adminis-tering first aid to a fallen comrade and shielding the body of another, but continued his duties. He was wounded a second time, but remained at his post. A grenade killed him and the two men he was helping during a battle on Hill 376 in Quang Tin Province.
LaPointe's death came before he could take a planned trip to Hawaii to meet his wife, Cindy, and 5-month old son, Joseph LaPointe III, whom he had never seen. LaPointe has received the Congressional Medal of Honor, Silver Star and Bronze Star.
The training center for all Army medical-aid soldiers at Fort Sam Houston in San Antonio, Texas, where LaPointe received advanced training, carries his name.
A housing complex and a medical clinic at Fort Campbell, Ky., home of the 101st Airborne Division where LaPointe was assigned, is named after him, along with a hospital helipad at Fort Benning, Ga.
The Army Reserve Center near Harshman and Airway roads on the Wright-Patterson Air Force Base also carries his name.
He was inducted into the Army Aviation Hall of Fame at Fort Rucker, Ala, in April 1998.

I am very pleased to announce that Governor Taft of Ohio signed a Bill today (January 6, 2003) naming a section of Highway in Ohio (between Trotwood and Clayton) after Joseph "Doc" LaPointe Jr. "Doc" received the Congressional Medal of Honor for actions while serving with B Troop 2nd 17th Calvary on June 2, 1969.
We (B Troop 2nd 17th Cavalry Association) are establishing a Scholarship Endowment in the name of Joseph "Doc" LaPointe Jr at Texas Tech University to fund a scholasrship for graduate students in Vietnam studies...so if anyone needs a tax write-off let us know.
A special thanks should go to Randy Kunkleman for his foresight and dedication to B Troop 2nd 17th Cavalry Association and the memory of Joseph "Doc" LaPointe Jr. Also a special thanks to Texas Tech University Vietnam Archives and Vietnam Center. Dr. Reckner and Dr. Frankum for being friends of B Troop and preserving the history of the Vietnam conflict...
WE ARE FREE because of men like Joseph "Doc" LaPointe Jr and the men of B Troop 2nd 17th Calvary past and present.
Enjoy your Freedom because someone paid for it.
David C. Martin
Vice-President
B Troop 2nd 17th Calvary Association
Chairman Scholarship Committee

THE JOSEPH GUY LAPOINTE CLINIC DEDICATION
Approximately two weeks before our 2000 reunion, I received a message informing us that there would be a dedication of a new troop clinic on Ft. Campbell on October 4, 2000. The message was an open invitation for anyone that served in B Troop that would like to attend the dedication.
The new clinic was going to be dedicated to Joseph Guy LaPointe who was killed in action June 2, 1969 while serving as the medic for B Troop 2/17th Cavalry. "Doc" sacrificed his own life while trying to save other wounded members of the B Troop "blues" that were pinned down by heavy enemy fire, just after being inserted on Hill 376 outside of Tam Ky. For his actions "Doc" was awarded the Congressional Medal of Honor.
Due to the time constraints involved we were not able to put the information out through the Gazette. We made an announcement at the 2001 Reunion, that if anyone was interested they were more than welcome to attend.
From the reunion Judie and I, along with Dave Martin and Jinger made a side trip through Kentucky, on the way home, to attend the dedication. Also in attendance were Wayne Lange and Joe Garcia. We tried to contact several of you that reside in the Ft. Campbell area, but couldn't make the connection because of one reason or another. Needless to say, Cindy and most of the LaPointe family were in attendance. Even though we just saw most of them a few days earlier in Alabama, it was great to see them again.
We were well received by active members of the 2/17th Cavalry and current Ban'shees, not to mention the reception we received from the personnel responsible for the dedication. The dedication was an event well worth attending and my only regret is that we didn't have more time after the dedication to socialize. Dave and Jinger had to start getting back to Texas and Judie and I had to make it back to Pennsylvania that night.

Bob Acklin induction into the Texas A&M University Hall of Honor
COLLEGE STATION - Texas A&M University recognized the lifetime achievements of four former cadets on Oct. 28, 2000 including the late Capt. Robert L. Acklen Jr, Class of '63.
... Cadets at Texas A&M would do well to emulate the heroic and humanitarian example of Capt. Bob Acklen. He graduated from Texas A&M with a bachelor of arts degree in history and was commissioned an Army officer in 1967. In 32 months as a helicopter pilot and infantry company commander in Vietnam, Acklen received 17 decorations for valor in combat. He left the fighting in Vietnam, only after suffering a broken back in a helicopter crash. During his 22 months in the hospital, doctors said he would never walk again but he proved them wrong, completing the rugged Army Ranger Course as an honor graduate a year later. Acklen continued to serve until 1976 when he was retired for physical disability as a result of his Vietnam injuries. At retirement, his military decorations included the Silver Star, Distinguished Flying Cross, six Bronze Star Medals (four for valor), 40 Air Medals (four for valor), four Army Commendation Medals (three for valor), the Purple Heart, and three Vietnamese Crosses of Gallantry, among others.
The selflessness Acklen displayed in combat continued in his civilian life. He earned a degree in computer science, becoming a computer programmer and systems analyst in Dallas. Over several years, he donated his services to help develop the computer system of the St. John Ophthalmic Hospital in Jerusalem, traveling to Israel at his own expense. For that work, Acklen was made a knight of the Order of St. John. He worked with veterans groups, assisting fellow Vietnam veterans and their families, and with civic organizations such as the Jaycees and Lions Club. For his service to those in need, he was made a knight of the Order of Saints Maurice and Lazarus by the Duke of Savoy. Tragically, his global humanitarian efforts were cut short when he died of a brain tumor in 1998 at age 57...

Sunday, August 20, 2000
Bill Wroolie was elected National Jr Vice Commander at the 68th National (MOPH) Convention held in New Orleans. YES! From here it's an automatic process. Next year Junior Vice. The following Vice, and the year after that NATIONAL Commander of the Military Order of the Purple Heart in the U.S. Top Honor.
Congratulations Bill! In my mind you've always been the best and greatest ever. (if you've read 'Eagle Bird Down' you'll know how much former Banshee Bill Wroolie means to me)
Of course you could congratulate him yourself... Bill & Mary Beth Wroolie