| ABOUT | NEW FRIENDS | HOME | SIGN IN | ROSTER | KIA's |
B Troop 2nd of the 17th Cavalry Regiment
101st Airborn Division Web Site
(circa 1969 Republic of Vietnam)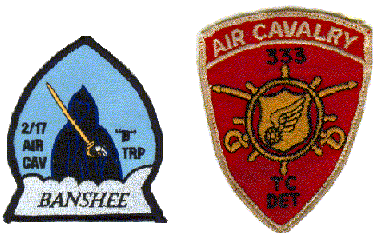 B Troop 2nd of the 17th Web Site:
As I hear from more people who have served with us, many good memories are recalled which prompted me to author this Web Site. It is intended to be a memorial to all who have served as members of B Troop, especially those who served in the Republic of Vietnam. Working with Jim Matthews and countless others, we have quickly assembled a lengthy roster of names. On the roster we identify the name, current home state, the group assigned to and E-Mail address, if available. Any corrections, contributions or other ideas for the site are welcome.
Site navigation is achieved by using the HOME page as the hub. Each page should allow you to return HOME. Select our ROSTER for a list of over 400 B Troop members, or the memorial page for those who were Killed In Action, KIA's. There are MEMORIES as well as other sites to visit using LINKS. And, most important of all, don't forget to SIGN IN on our Guest Registry. Tell us a little about yourself and view comments of others who have signed in before you. Give us some feedback, is there something else you would like to see? Do you wish to join our association? Let us know. Note: Support for the "LYCOS/TRIPOD Guest Books" has been retired as of April 1, 2012. Unfortunately, all of our Guest Book entries have been lost. Join us on Facebook. My appologies for any inconvenience.
B Troop 2nd / 17th Cavalry Association is exempt from taxation under IRC 501 (c) (19). Dues and Contributions to B Troop 2nd / 17th Cavalry Association are tax-deductible.
Visit our NEW Ban'shee Supply Room where you may buy Ban'Shee Jackets, shirts and more.
Pages of interest include some inspirational writing submitted by members of our newly established B Troop 2nd of the 17th Association. Don't miss EAGLE BIRD DOWN by Steve Jones or IS THERE REALLY A SANTA CLAUS by Jim Matthews. If you were in-country with us, read Randy Kunkleman's LETTERS TO MOM. It is sure to stir many personal memories. All can be found by selecting MEMORIES from the HOME page. Thanks beaucoup guys for your contributions. Anyone with a story to tell, please share it with us.
Our newest Featured Stories include the Diary of a Scout Pilot by Dan Hillliard and The Rescue of Robert Andrews by Bill Russell. Check out Lamar Plain - why we went to Tam Ky, After Action Report. Also visit our Photo Album. See some In-country as well as Reunion Photographs supplied by our members.
Dave Martin publishes the BANSHEE GAZETTE where the foundation of our Association was established. See the latest Web Site version of the December 1997 issue. Please consider joining our association, associate and honorary memberships are accepted. B Troop 2nd / 17th Cavalry Association is exempt from taxation under IRC 501 (c) (19). Dues and Contributions to B Troop 2nd / 17th Cavalry Association are tax-deductible.
Links to other interesting sights can also be found from our HOME page, LINKS. A special thanks to Wonderful Monds and CPT Dale E. Davis, Fort Sill, OK for graphic contributions.
MONOLITH SHUT DOWN
Monolith provided URL redirection at no charge but has now shut down.
If you have made any reference to: HTTP://BANSHEE.Home.ml.org, please remove it and substitute the actual Ban'Shee home page at:
http://www.vietnamproject.ttu.edu/banshee/
Use cut and paste to copy the address to your favorites or bookmarks.
Web Site Awards: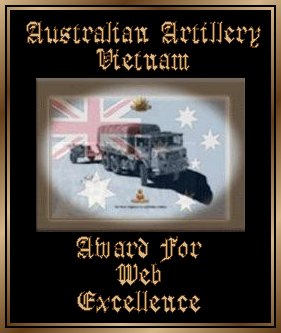 Awarded by: Australian Artillery Vietnam June 2, 2008
Visit the AUSTRALIAN ARTILLERY VIETNAM Website
---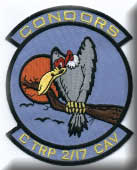 Awarded by: Mac Jones C Troop 2/17 Cavalry February 10, 2000
---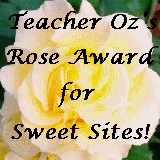 April 21, 1999, I am proud to present you with the Rose Award.
Visit my Vietnam page.
Teacher Oz
---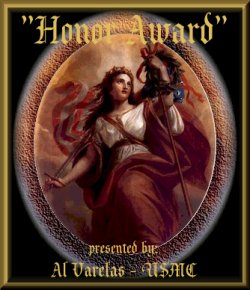 To all whom these presents shall come
Greetings
Know ye, that I, confiding in the outstanding
PATRIOTISM - LOYALTY - INTEGRITY
of

" B Troop 2nd/17th Calvary"

do as of this date, 2 November, in the year of our Lord
one thousand nineteen hundred and ninety seven
and of the great Independence of the
"United States of America"
the two hundred and twenty first year
bestow upon the above named "Patriot" with
great pride for the exceptional display of
"Outstanding Patriotism"
this Award

Presented by:
Al Varelas - USMC
Vietnam Veteran


Know ye all who preview this presentation,
that this Award is confered upon True Patriots only
Be it also known that this Award is given at the discreation
of it's originator, or by recommendation of a receipient,
and cannot be applied for...

Please Visit:
Al Varelas - USMC
Vietnam Veteran
26th Marine Regiment
Khe Sanh Combat Base
Republic of South Vietnam



PLEASE NOTE:
This page is an unofficial document and does not represent information endorsed by the:

United States Government

United States Army
or
Texas Tech University

Thank You
Web Site construction created by the Webmaster, except where noted.
This Page &copy Copyright 1997 - 2002, Webmaster Dan Schave

Banshee \Ban"shee\, Banshie \Ban"shie\, n. [Gael. bean-shith fairy; Gael. & Ir. bean woman + Gael. sith fairy.] A supernatural being supposed by the Irish and Scotch peasantry to warn a family of the speedy death of one of its members, by wailing or singing in a mournful voice under the windows of the house.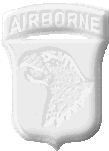 Week of the Eagles
The annual 101st Airborne Division (AASLT) Week of the Eagles was hosted at Fort Campbell this year on June 5-10, 2000. On Friday June 9th there was a special induction presentation at the 2/17th museum/hall of honor.
Commander
B Troop 2-17 Cav
Gregory A. Williams, williamsg@emh2.campbell.army.mil

Attention Lam Son Veterans
Tom Marshall, author of "The Price of Exit" is compiling material for a new book about the invasion of Laos, Operation Lam Son 719. He is looking for your input with as much detail as possible of your experiences during this operation.
If you read his first book, or the "Into Laos" book by Keith Nolan, you will notice the the 2/17th Cavalry is not mentioned very often (hardly at all). The reason is that neither writer had any input from the Cav folks who participated in the battle. We just weren't on the net, or otherwise available to tell our part of that historic battle.

The only way the efforts of the Cav will be recognized, is for those that were there to speak up. Please contact Tom either by email ( wtmjr@attglobal.net ) or through regular mail:
Tom Marshall
Post Office Box 1882
Pensacola, FL 32589

Will Tom Marshall give a good account of what you share with him? Mac Jones, C Troop, (Condor 03) thinks so. Mac's email is: condor03@earthlink.net

RETIRED MILITARY ADVOCATE
Floyd H. Sears, Time: 1997-10-04 23:55:00
I just toured your web site. I am here begging. I have provided a link from my web page to you via the Links List maintained by the Veterans News and Information Service. Please provide a link to the "RETIRED MILITARY ADVOCATE" http://personal.lig.bellsouth.net/~fsears. The purpose of this web page is to promote restoration of the Armed Forces of the United States, a retired military medical care promise, and the dignity of the retired military. Please encourage the members of your organization to view my web site. Thank you for supporting the United States Military Veterans. Floyd H. Sears - Retired Military (1951-1971) Senior Citizen. 1713 Carpenter Cir Ocean Springs, MS, 39564 Member of NAUS, DAV and AARP.

Can you help me construct a complete list of squadron KIA's?
My name is George C. Arzente, I'm a CW4 aviator and Vietnam vet. I'm still on active duty with the 101st at Ft Campbell, KY. I was stationed with the 2/17th Cav twice. Once from June 87-Dec 89 with D Troop, then Sept 91-July 93 with HHT as the Squadron safety officer. Although I did not serve in war with 2/17 Cav, what is significant is I was the Squadron historian during both of my tours.
I want to reach former members of the 539th Transportation Co. It was a good unit with great guys in it. It was not as visual as the 2/17, but some of us took the hand we were delt. Check out my 539th Transportation CO. (AGS) site.
By the way I can now finish the KIA project, hope to have it to you before Vets day.
---
Date: Sun, 31 Jan 1999
I have finalized the 2d Squadron, 17th Cavalry Regt, Vietnam KIA roster. I have come up with a roster with 137 squadron troopers on it. I will forward a copy. I have transcribed it to MS Access database. As soon as I give the Squadron Commander his copy I will forward copies to all who desire one. I still have a few loose ends, regarding what Troop some of the men were in.
Was Arthur Darnell Neal killed on UH-1H 67-17734 with CW2 Chavez, SP4 Holmgren, and PVT Scruggs? I would appreciate any help you could render in this matter.
I will be PCS'ing to Patrick AFB, Florida with assignment to the State Dept Air Wing. I leave here 28 Feb 99 for three years. I hope to continue my relationship with you and your association. Take care, stay well, and stay in touch.
George Arzente
Clarksville, TN
Sent : Saturday, November 19, 2005 10:38 AM
In looking at your current KIA page there is a letter there from George Arzente. He wanted to know if Neal was killed in a particular crash. I can answer that question for you. Arthur Darnell Neal died of an illness on July 2. The crash of #67-17734 occurred on June 18.
Larry Stimeling (larrynamvet@yahoo.com)
Di An RVN
1970-71
595th Signal Co.

The proud Ban'shee tradition still lives on
Just a quick note to let you know the proud Ban'shee tradition still lives on with the 101st Airborne Division here at Ft Campbell. We are now equipped with OH-58D Kiowa Warrior Armed Reconnaissance helicopters. With the new structure of the Army and Army Aviation the size of the Troop has been drastically reduced. The Troop's authorized strength is 3 COs, 13 WOs and 11 EMs. We have 8 OH-58Ds, 2 HMMWVs and 1 1990s version of the old duce and a half called a LMTV (Light/Medium Tactical Vehicle). Not too much stuff compared to your unit in Vietnam.

If you guys ever need T-shirts or patches, the origional Ban'shee design of the Vietnam era, we have 'em and wear them for PT several times a week. We'd be happy to give you a great deal on them. If you have any questions or comments please feel free to drop me a line. at:

To All,
I got this from my old HHT commander when I was his III/V Plt Ldr at Bragg. The web site is up and they have a sample of the Cert there. It's not to extravagant (sp?) but it's a nice "Thank You". Check it out if you get the chance.

Original Message

COLD WAR RECOGNITION CERTIFICATES: In accordance with section 1084 of the Fiscal Year 1998 National Defense Authorization Act, the Secretary of Defense approved awarding Cold War Recognition Certificates to all members of the armed forces and qualified federal government civilian personnel who faithfully served the United States during the Cold War era from Sept. 2, 1945 to Dec. 26 1991.

Beginning April 5, 1999 you may apply for a Cold War Recognition Certificate if you qualify. Online application is preferred; however, the application form may be printed and mailed, or faxed with the required supporting documents. Online application and instruction will be available at: http://147.103.18.232/ . The application form also will be available through other sources to be announced.

You can preview the certificate at: http://147.103.18.232/preview.htm .

[Source: Veterans digest 1999-7 dtd 12 JAN 99] http://www.defenselink.mil/faq/index.html#CONTACT

The very best to all of you, especially those in the ROK.

Out Front!
Pat Day

November 11, 1997 - A Special Veterans Day to Remember
Some of you know the events that occurred in Granite Falls, WA. during Veteran's Day this year. For the benefit of those who don't, please bare with me while I explain briefly what happened.
A former Banshee, John-Michael Hendrix, wrote a book about his and his wife's experiences during their tour in Vietnam. A short book review can be found below under "TO HAVE AND TO HOLD." Last year, a progressive teacher at the Monte Cristo Elementary School in Granite Falls, Washington, braved much criticism and used the book as a filler for her mulitage class of 9-10-11 year olds. The book and its' true to life characters became a full time learning experience to the children.
When they learned how the Vietnam Veterans were treated, they made Veterans Day cards for their favorite characters, one for each year since their return. When the characters were locate the stockpile of Veterans Day cards were mailed to them. The story doesn't stop there. When the children found out that their town had not had a Veteran's Day parade since the end of WWI, the not to be denied students petitioned their town council pressuring them into having a parade. The students had fund raising activities over the summer to raise enough money to fly the characters of the book up to Granite Falls, so they could participate in their much deserved Veteran's Day parade. Soon, not only the whole community, but the surrounding area was behind the children and their crusade making the Veteran's Day parade in Granite Falls probably more meaningful that anywhere else in the country.
Since the celebration, Debra has sent me a short writing about her heartfelt reflections about the event. I have her permission to share it with other veterans.
B Troop 2/17th Cavalry Association
Finally Home
The time just seemed perfect.
Little did we know we would be changing history, changing what was one
man's worst experience into the highest honor
he has ever received.

The "thank yous" couldn't be restrained this day.
Reconcilation and healing shown on the faces
of many men, women, and children.
A new generation opened their hearts to inspire
the healing that a simple walk
down a tarmac to a terminal destroyed,
crushing a heart,
to a true and binding friendship.
This is the result.
An average town? No more.
Renewed patriotism, sense of community and connection. This new
generation is strong and persistent.

Viet Nam is a part of our history...but it is no longer simply words on
a page, or pages in a book.

Two battle worn soldiers are welcomed home at last.
They did their work, it was our turn, now it is your turn.
Take to heart what we have created- be strong, don't be afraid.

It is never too late to move a mountain.
It is never too late
to
remember.
Read the story behind this Poem.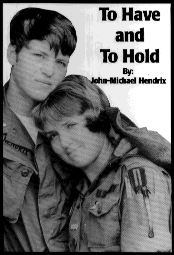 TO HAVE AND TO HOLD
John served as a highly decorated scout pilot with B Troop 2/17th Cavalry from 1970 to 1971. While serving with the "BANSHEES" John met, romanced and married Patti, who was also serving as an Army nurse with the 85th Evac Hospital in Phu Bai. "To Have And To Hold is far from being just a love story. It also includes many of John's combat experiences and lessons learned, that keep the reader on the edge of their seat throughout the entire book. Even with all the tragic events that occurred during his tour, John managed to include several hilarious epsiodes that brought tears of laughter to my eyes." - Jim Matthews
Now in its second release, "To Have And To Hold" can be ordered directly from:
Emerald City Publications
30528 Mountain Loop Highway
Granite Falls, Wa 98252
Get detailed information from the Granite Falls Web Site.

| ABOUT | NEW FRIENDS | HOME | SIGN IN | ROSTER | KIA's | TOP |